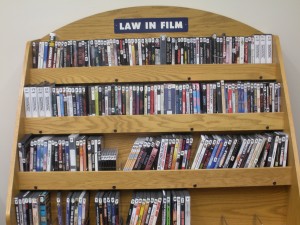 It is time for me to highlight our recent additions to Law in Film Collection at Pace Law Library. Any movies in our Law in Film Collection can be checked out to our patrons with borrowing privileges for up to five days at no charge. The Law in Film Collection is located in the student lounge (break room) on the third level in the library. Check it out!
The Law in These Parts (Noga; 8; a film by Ra'anan Alexandrowicz & Liran Atzmor) [DS119.76 .L38 2013 DVD] – "Explores the four-decade-old Israeli military legal system in the Occupied Territories. Since Israel conquered the territories of the West Bank and Gaza Strip in the 1967 War, the military has imposed thousand of orders and laws, established military courts, sentenced hundreds of thousand of Palestinians, enabled half a million Israeli "settlers" to move to the Occupied Territories and developed a system of long-term jurisdiction by an occupying army that is unique in the world. The film records the testimonies of the military legal professionals who were the architects of the system and helped run it in its formative years."
Rake: the Bar…Gets Even Lower (Season 2) (created by Peter Duncan, Richard Roxburgh, Charles Waterstreet; written by Peter Duncan, Andrew Knight; producers, Ian Collie, Peter Duncan, Richard Roxburgh; directed by Rachel Ward) [PN1992.72 .R35 2013 DVD] – "Australian criminal barrister Cleaver Greene is on a constant search for higher highs and faster rushes, while attracting dangerous female liaisons and sworn enemies."
Into the Cold (a film by Sebastian Copeland) [G860 .I48 2011 DVD] – "The film follows… environmental advocate, photographer and polar traveler Sebastian Copeland through his intensive training before embarking on the two-month, 400+ mile trip on foot across the frozen ice cap with his partner Keith Heger. From personal reflections to last minute preparations, the story shifts when the two men are dropped onto the ice, faced with temperatures in excess of -50F degrees, alone for millions of square miles, and armed only with their courage and determination."
The East (Fox Searchlight Pictures presents a Scott Free production; written by Zal Batmanglij & Brit Marling; producer, Ridley Scott; directed by Zal Batmanglij) [PN1997.2 .E27 2013 DVD] – "Sarah Moss is an ambitious new recruit at an elite private intelligence firm. Her first undercover assignment is to infiltrate 'The East,' an elusive activist collective that terrorizes corporate leaders who commit crimes against humanity. The more involved she gets, the more Sarah's life is in danger."
Chasing Ice (Submarine Deluxe; an Exposure production in association with Diamond Docs; directed and produced by Jeff Orlowski; produced by Jerry Aronson, Paula Dupré Pesmen; executive producers, David J. Cornfield and Linda A. Cornfield; written by Mark Monroe) [QC903 .C435 2013 DVD] – "Chronicles the efforts of nature photographer James Balog to document the receding of the Solheim glacier in Iceland, a consequence of climate change and global warming, in which strategically placed cameras would take one picture every hour for three years."
Envisioning a More Democratic Global System and Documentary Extra: Wrap-up Session (produced by Paul Martinez) [JZ1319 .E48 2007 DVD] – The great architects of democracy from Pericles to James Madison assumed that democracy applied only within countries. Now in the globalizing world of the 21st century, are we ready for democracy to be applied internationally? In April, 2006, Widener University School of Law sponsored a Symposium dedicated to this question… This video documentary is the Symposium story.
John Adams (HBO Films presents a Playtone production; produced by David Coatsworth, Steven Shareshian; directed by Tom Hooper) [PN1992.8.H56 J646 2008 DVD] – While our new nation was suffering attacks from both within and without, John Adams had a vision of a nation of liberty and justice for all. He guided his peers–General George Washington, Benjamin Franklin and Thomas Jefferson–in setting the values and agenda for a glorious, free America. Adams and his wife Abigail refined these ambitious democratic ideals, and their partnership became one of the most moving love stories in American history.
The Good Wife (Season 4) (CBS) [PN1997.2 .G66 2013 DVD] – A gripping blend of courtroom drama, politics and steamy personal relationships that stars Emmy and Golden Globe Award winner Julianna Margulies as Alicia Florrick, a wife and mother who reclaims control of her personal and professional lives after her husband, Peter, is embroiled in a sex and political corruption scandal. As Alicia adapts to changes at home and at work as a defense attorney, she continues to redefine and rediscover the woman she wishes to be.
Green Fire: Aldo Leopold and a Land Ethic for Our Time (Aldo Leopold Foundation, U.S. Forest Service, Center for Humans and Nature present; a film by Ann Dunsky, Steve Dunsky, Dave Steinke; writer, Stephen Most) [QH31.L618 G74 2011 DVD] – Examines the conservationist's life and legacy, examining ways his land ethic philosophy and vision of a community that cares about both people and land lives on in the work of individuals and organizations around the country today.
West of Memphis (a WingNut Films production in association with Disarming Films; directed by Amy Berg; produced by Peter Jackson, Fran Walsh, [and] Amy Berg; written by Amy Berg & Billy McMillin; producers, Damien Echols, Lorri Davis) [HV6534.A8 W47 2013 DVD] – True story centering on the new investigation surrounding the 1993 murders of three 8-year-old boys in the town of West Memphis, Arkansas. Evidence surrounding the murders exposed the wrongful conviction of three teenagers who lost 18 years of their lives imprisoned for crimes they did not commit.