The first time we mentioned the United States Code available online at the OLRC (Office of Law Revision Counsel) was in 2011 when it was still in beta version. A lot has happened in the past two years. The OLRC's site is no longer in beta version and offers many new features.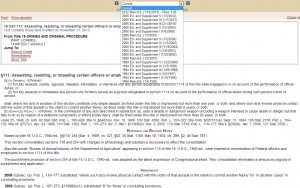 Users may browse the Code by title, part, chapter, and section. Browsed content is displayed in html allowing users to print the selection. The display view includes the text of the Code with the credits, Historical and Revision Notes, Amendments, and Short Title. At the top of the page of the display view is a drop down menu allowing users to view historical versions of the displayed section of the Code going back to 1994. This feature makes tracking statutory amendments much easier.
Users may also search the Code. Users may use the simple search at the top of the main page or the advanced search. Consult the Search Tips to learn how to search for a phrase, how to use Boolean and proximity connectors, wildcards and masks, parentheses, what is the order of operations, and more. Users may also take advantage of the site's Advanced Search where options include searching a current or historical version of the Code, searching for general terms within a particular title and section, searching within a particular field of the statute (text, credits, headings, amendment notes, etc.), and searching for references to a specific title and section. Results can then be displayed in context or citation view, and sorted by relevance or code order. See an example of a search and result page (displayed in context view and sorted by relevance) to the left.
The OLRC site also includes information about currency and updating, classification tables, popular name tool, cite checker table, Statutes at Large Volumes (spanning 1789-2012), positive law codification page, editorial reclassification page, and more.
Most recently, via In Custodia Legis: Law Librarian of Congress blog post, the OLRC site enables users to download the United States Code in a variety of formats. Downloadable files include [XML] [XHTML] [PCC] [PDF]. The OLRC site writes:
Each update of the United States Code is a release point. This page provides downloadable files for the current release point. All files are current through Public Law 113-47. Titles in bold have been changed since the last release point. A User Guide and the USLM Schema and stylesheet are provided for the United States Code in XML. A stylesheet is provided for the XHTML. PCC files are text files containing GPO photocomposition codes (i.e., locators). Information about the currency of United States Code titles is available on the Currency page. Files for prior release points are available on the Prior Release Points page. Older materials are available on the Annual Historical Archives page.