Our Congratulations go out to the Pace 2015 Queens County District Attorney Mock Trial Competition team that advanced to the Semi-Final Round, and placed in the top 6 teams! The team competed October 24-25, at the Queens County Criminal Courthouse in New York.
The competition was sponsored by the Queens County District Attorney's Office, and is used to scout top talent for the Office. This year's competition problem involved an alleged homicide and armed robbery of a restaurant.
Michael Chiaramonte (3L), Vittoria Fiorenza (3L), Michael Pesin-Virovets (3L) and Hanna Shoshany (4L) represented Pace Law School at the competition. The team was under the direction of Pace Alumnus, Coach Brian Fitzgerald.
Michael Pesin-Virovets and Vittoria Fiorenza represented the Prosecution, while Hanna Shoshany and Michael Chiaramonte represented the Defense. During Saturday's first round, the Defense argued against Albany Law School. In the second round, the Prosecution argued against Quinnipiac Law School. The team then advanced to the final 6 remaining teams, out of 14 teams. During Sunday's advanced round, the Prosecution argued against Fordham Law School.
The team and coaches were honored to represent Pace Law School, and finish as a top 6 team!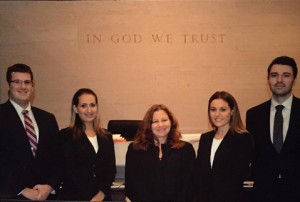 Congratulations to Michael Chiaramonte, Vittoria Fiorenza, Michael Pesin-Virovets and Hanna Shoshany on their performance!