POST WRITTEN BY: Cassandra Castellano (J.D. expected '17, Pace Law School) & Lucie Olejnikova
Pace Law School hosted its Annual Louis V. Fasulo Moot Court Competition for the 2015 January Class on July 8, 2015. About 40 lawyers and judges participated in judging this exciting competition. The students were prepared and delivered an exciting evening of well-reasoned and persuasively delivered legal arguments.
The students argued the merits of the case of People v. Foster, No. 1423-15 (Sup. Ct. N.Y. Co. Apr. 15, 2015), authored by Professor Peter Widulski. Professors Vicky Gannon, Tamar Gribetz, Gail Whittemore, and Peter Widulski worked with the students throughout their summer semester and prepared them for their presentations. The panels of judges, many of whom were Pace alumni, challenged our students with great line of questioning. Our students rose to the occasion and received high praises and great feedback from the judges.
The comradery, intensity, and enthusiasm of the students provided for a wonderful competition. After the preliminary rounds, the top 15 students – Chanel Clinton, Stephanie Correa, Gianna Del Grippo, Katherine Ehrlich, Steven Filosa, Justin Grant, Brittany Hanley, Patricia Lam, Vito Marzano, Jonathan Poling, Daniel Rodriguez, Dennis Salzbrunn, Conor Strong, Mark Uzorka and Scott Wenzel – competed for top oralist. As the evening moved on, Katherine Ehrlich, Steven Filosa, Justin Grant, Vito Marzano, Daniel Rodriguez, Conor Strong, Mark Uzorka and Scott Wenzel met head to head in an exciting top 8 semi-final round, making it a difficult job for the judges to pick the finalists.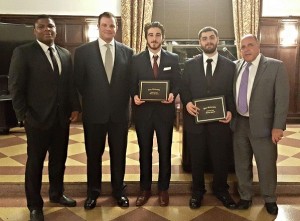 Vito Marzano, Conor Strong, Mark Uzorka and Scott Wenzel prevailed and earned their spot in top 4. Vito Marzano won the overall competition as Best Advocate, Conor Strong won second place and Mark Uzorka won third place. All three students received generous Pieper Bar Review gift certificates, as an acknowledgement of their accomplishment.
Thank you to Loretta Musial, Prof. Louis Fasulo, Catherine Peña ('15), the 1L Legal Skills Writing and Research faculty for preparing and supporting the students, Dean Yassky, Chartwell Food Services and of course our volunteer judges. Special thanks also to the Advocacy Honor Board for running the competition: Cassandra Castellano, Brianne Cunningham, Washington Paul Alvarez, Vittoria Fiorenza, Michael Giordano, Hanna Shoshany and Michael Pesin-Virovets.
Congratulations to Vito Marzano, Conor Strong, Mark Uzorka, and Scott Wenzel on this wonderful achievement!