We are happy to announce that Pace law students can now reserve Law Library study rooms using an online reservation system. Along with the new online system, we are instituting new study room reservation policies which will make it easier for you to make a reservation:
Each student is entitled to reserve 2 hours of study room space per day.
Reservations are accepted by the system on a first come, first served basis.

Use your @law.pace.edu email address when making a reservation.
When you receive an email confirmation request, you must reply to this email and confirm the reservation within 30 minutes or the room will not be held for you.

Cancellations: Students who need to cancel a study room reservation must do so at least one hour before the starting time for that reservation. Reservations that are not cancelled at least 1 hour before the starting time for the reservation count toward the 2 hours of study room time available to each student on that day.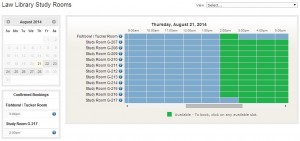 The new system will accept reservations only during the Law Library's regular business hours. At all other times, Pace law students are welcome to use the study rooms, but will not be able to reserve them. The system is mobile optimized, so all students may use their mobile phones to reserve a study room. The Circulation Desk is no longer making study room reservations. We know that returning students are used to calling the Circulation Desk to reserve study rooms, and we look forward to helping everyone to transition over to the new online reservation system.