On August 13, 2014, Pace Law Library was honored to host a three member delegation from the High School of Justice, Tbilisi, Republic of Georgia, one of the premier training centers for judges. The Director of the High School, the Deputy Director and the Head of Administration expressed their goal to 'enrich and modernize' their library.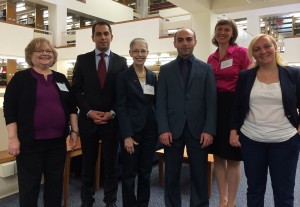 The delegation toured the library with a focus on our impressive human rights collection, print and digital. The group discussed the relevant portions of our collection development policy and cooperation with publishers and vendors when purchasing new acquisitions. The presentation, over lunch, comprised of an overview of library's services including our Digital Commons depository (faculty publications, law reviews, and thesis and dissertations), our extensive collection of subject specific research guides, the library's overall online presence, and a short overview of additional services, including faculty liaison program, research assistants training, and our online reference system. The visit concluded with an overview of our technical services with a special focus on the functionality of the library catalog in its public and staff modes.
We thank the Georgian delegation for their visit and look forward to our continuous cooperation!