FEATURED BOOK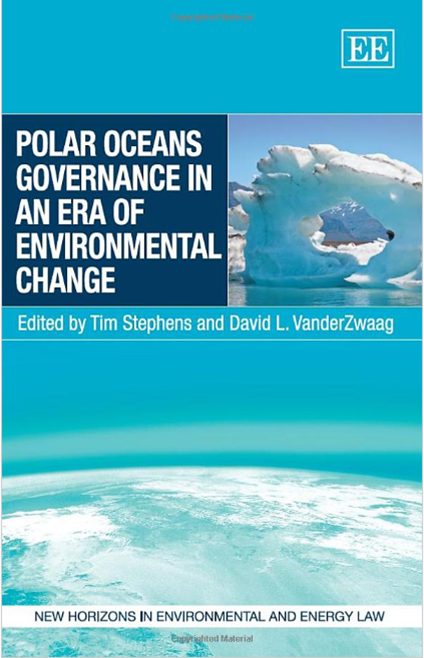 Polar Oceans Governance In an Era of Environmental Change.  Polar Oceans Governance is a 354 page text edited by Tim Stephens of the University of Syndey and David L. VanderZwaag of Dalhousie University. This book examines changing governance schemes in the polar oceans. The work is divided into five parts: 1) environmental change; 2) geostrategic dynamics; 3) resources, environment, sovreignty and jurisdiction-bipolar perspectives; 4) developing national and foreign policy responses; and 5) the future of polar oceans governance. Footnotes are included in each chapter and an Index is provided for ease of use.
NEW LIBRARY ACQUISITIONS
ARCTIC/ANTARCTIC:
Ice and water : politics, peoples, and the Arctic Council / John English ; general editors Margaret MacMillan and Robert Bothwell
Polar oceans governance in an era of environmental change / edited by Tim Stephens, Faculty of law, University of Sydney, Australia; David L. VanderZwaag, Marine and Environmental Law Institute, Schulich School of Law, Dalhousie University, Canada
ANIMAL LAW.
Animal cruelty and freedom of speech : when worlds collide / Abigail Perdue and Randall Lockwood
CLIMATE CHANGE.
Governing the climate : new approaches to rationality, power and politics / edited by Johannes Stripple, Lund University; Harriet Bulkeley, Durham University
The fragmentation of global climate governance : consequences and management of regime interactions / Harro van Asselt, Stockholm Environment Institute (SEI)
Justice for future generations : climate change and international law / Peter Lawrence, Senior Lecturer, Faculty of Law, University of Tasmania, Australia
ECOTOURISM.
Romancing the wild : cultural dimensions of ecotourism / Robert Fletcher
ENERGY.
Traveling the power line : from the Mojave Desert to the Bay of Fundy / Julianne Couch
ENVIRONMENTAL CRIME.
Exploring green criminology : toward a green criminological revolution / Michael J. Lynch, Paul B. Stretesky
FOOD LAW.
Balancing on a planet : the future of food and agriculture / David A. Cleveland
GOVERNANCE.
Improving global environmental governance : best practices for architecture and agency / [edited by] Norichika Kanie, Steinar Andresen, Peter M. Haas
INTERNATIONAL.
Courts, codes, and custom : legal tradition and state policy toward international human rights and environmental law / Dana Zartner
STUDY AIDS.
Environmental law / Steven Ferrey, Professor of Law, Suffolk University Law School
UNITED STATES.
A window on eternity : a biologist's walk through Gorongosa National Park / Edward O. Wilson ; photographs by Piotr Naskrecki
WATER & WATER RESOURCES.
Water law and cooperation in the Euphrates-Tigris region : a comparative and interdisciplinary approach / edited by Aysegül Kibaroglu, Adele J. Kirschner, Sigrid Mehring, Rüdiger Wolfrum