FEATURED BOOK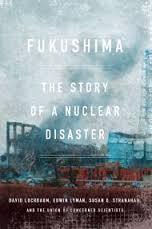 Fukushima: The Story of a Nuclear Disaster.  Fukushima is a 309 page text authored by David Lochbaum, Edwin Lyman, Susan Q. Stranahan and the Union of Concerned Scientists. This book discusses the nuclear accident that occurred at the Fukushima Daiichi nuclear power plant in Japan in March of 2011. The text focuses on the political and scientific background of the incident as well as the far reaching policy implications that the disaster has had all over the world.  Notes and References and an Index are available for ease of use.
NEW LIBRARY ACQUISITIONS
AIR QUALITY.
Urban air quality in Europe / volume editor, Mar Viana ; with contributions by F. Amato [and forty-two others]
New trends in emission control in the European Union / Jerzy Merkisz, Jacek Pielecha, Stanislaw Radzimirski
ALTERNATIVE ENERGY:
Bioenergy from wood : sustainable production in the tropics / Thomas Seifert, editor
ANIMAL LAW.
Animal cruelty : a multidisciplinary approach to understanding / edited by Mary P. Brewster, Cassandra L. Reyes
Animal law in Australasia : continuing the dialogue / editors, Peter Sankoff, Steven White, Celeste Black
CLIMATE CHANGE.
The politics of climate change negotiations : strategies and variables in prolonged international negotiations / Christian Downie (Regulatory Institutions Network, the Australian National University)
Adaptation to climate change in Asia / edited by Sushil Vachani and Jawed Usmani
DISASTER LAW.
Fukushima : the story of a nuclear disaster / David Lochbaum, Edwin Lyman, Susan Q. Stranahan, and The Union of Concerned Scientists
Asia-Pacific disaster management : comparative and socio-legal perspectives / Simon Butt, Hitoshi Nasu, Luke Nottage, editors
Gender, development and disasters / Sarah Bradshaw
ECOLOGY.
Contested ecologies : dialogues in the south on nature and knowledge / edited by Lesley Green
Reclaiming American cities : the struggle for people, place, and nature since 1900 / Rutherford H. Platt
EDUCATION.
Education and the environment : creating standards-based programs in schools and districts / Gerald A. Lieberman
FOOD LAW.
Food consumption in China : the revolution continues / Zhang-Yue Zhou, Hongbo Liu and Lijuan Cao
FORESTS.
Challenges and opportunities for the world's forests in the 21st century / Trevor Fenning, editor
FOREIGN LAW.
Forests of Iran : a treasure from the past, a hope for the future / Khosro Sagheb Talebi, Toktam Sajedi, Mehdi Pourhashemi
Our National River Ganga : lifeline of millions / Rashmi Sanghi, editor
GENETIC RESOURCES.
Global governance of genetic resources : access and benefit sharing after the Nagoya Protocol / edited by Sebastian Oberthür and G. Kristin Rosendal
GREENHOUSE GAS EMISSIONS.
Carbon pricing : early experience and future prospects / edited by John Quiggin, the University of Queensland, Australia, David Adamson, the University of Queensland, Australia, Daniel Quiggin, Georgia State University, USA
LEGAL HISTORY.
A legislative history of the Solid Waste Disposal Act, as amended together with a section-by-section index / prepared by the Environmental Policy Division of the Congressional Research Service of the Library of Congress for the Committee on Public Works, U.S. Senate
OCEAN LAW.
Marine policy : an introduction to governance and international law of the oceans / Mark Zacharias
POLLUTION.
Paying the polluter : environmentally harmful subsidies and their reform / edited by Frans H. Oosterhuis and Patrick ten Brink
PROPERTY LAW.
Property law and social morality / Peter M. Gerhart, Case Western Reserve University School of Law
SUSTAINABLE DEVELOPMENT.
Sustainable urban water environment : climate, pollution and adaptation / Ashantha Goonetilleke, Tan Yigitcanlar, Godwin A. Ayoko and Prasanna Egodawatta
Healthy cities : public health through urban planning / Chinmoy Sarkar, Chris Webster, and John Gallacher
WATER & WATER RESOURCES.
The right(s) to water : the multi-level governance of a unique human right / Pierre Thielbörger
Securing water and wastewater systems : global experiences / Robert M. Clark, Simon Hakim, editors
UNITED STATES.
GREAT LAKES.
The once and future Great Lakes country : an ecological history / John L. Riley
TEXAS.
Environmental sustainability issues in the South Texas-Mexico border region / David Ramirez, Jianhong Ren, Kim D. Jones, Harriet Lamm, editors