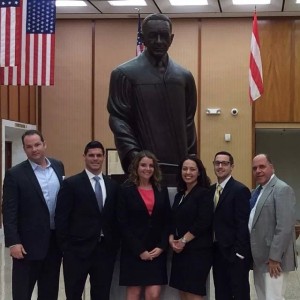 Our Congratulations go to the Pace 2014 Estrella Trial Advocacy Team that advanced to semi-final round and placed third overall. The second annual Estrella Trial Advocacy Competition (ETAC) was held on April 5-6, 2014 in Old San Juan, Puerto Rico. The competition was established by George Washington School of Law in cooperation with Estrella LLC, a Puerto Rican general practice firm. This year's competition problem involved a negligence action brought by Ms. Jamie Markel against her employer, Home Supply Center. Ms. Markel alleged that he was sexually assaulted by her coworker as a result of her employer's negligence. Erica Gilerman (3L), Nicole Murdocca (3L), Christopher O'Brien (3L), and Matthew Pellegrine (3L) represented Pace Law School at the competition. Erica and Christopher represented the defendant, Home Supply Center, and Nicole and Matthew argued on behalf of the plaintiff, Ms. Markel. The team was coached by Keith Sullivan of Sullivan & Galleshaw, LLP, and Professor Louis V. Fasulo.
In the preliminary rounds, Pace faced off against South Dakota Law School as well as George Mason Law School. After going undefeated, Pace advanced to the semi-finals along with Georgetown, Southern Illinois, and UCLA. Pace was the highest placing team from New York, outlasting teams such as Brooklyn, Fordham, and St. John's Law Schools. Pace Law School placed third overall after falling to Southern Illinois in a 2-1 split decision. The team and coaches were honored to have the opportunity to represent Pace Law School in this competition and to explore the beautiful island of Puerto Rico.
Congratulations to Erica, Nicole, Christopher, and Matthew for a great performance!