FEATURED BOOK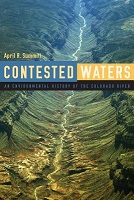 Contested Waters: An Environmental History of the Colorado River (2013).  Contested Waters is a 266 page text authored by April R. Summitt, an assistant professor of history at Arizona State University, published by the University Press of Colorado.  The book, discusses the Colorado River and its unique geographical, political and environmental history from the perspective of the waters' "conquest, control, division, and depletion".  Of interest to researchers the text focuses on water law in the American west, issues of sustainability, as well as the various power relationships in existence between regulating bodies (including Mexico).  Individual chapter endnotes and an index are included for ease of use.
NEW LIBRARY ACQUISITIONS
AGRICULTURE.
Harvesting the biosphere : what we have taken from nature / Vaclav Smil
The new horse-powered farm : tools and systems for the small-scale, sustainable market grower / Stephen Leslie ; foreword by Lynn Miller
CLIMATE CHANGE.
Climate change and land policies / edited by Gregory K. Ingram and Yu-Hung Hong
Environmental technologies, intellectual property and climate change : accessing, obtaining and protecting / edited by Abbe E.L. Brown, Senior Lecturer, University of Aberdeen, UK
Ethical adaptation to climate change : human virtues of the future / edited by Allen Thompson and Jeremy Bendik-Keymer
Global commons, domestic decisions : the comparative politics of climate change / edited by Kathryn Harrison and Lisa McIntosh Sundstrom
COASTAL LAW.
The battle for North Carolina's coast : evolutionary history, present crisis, and vision for the future / Stanley R. Riggs … [et al.]
COMMENTARY.
Terra nova : the new world after oil, cars, and suburbs / Eric W. Sanderson
CONSERVATION.
Conservation capital in the Americas : exemplary conservation finance initiatives / editor, James N. Levitt ; assistant editor, Shannon Meyer
CULTURAL HERITAGE LAW.
Appraising conservation and historic preservation easements / Richard J. Roddewig
DISASTER LAW.
Disaster law [electronic resource] / edited by Taryn Rucinski
Building community resilience post-disaster : a guide for affordable housing and community economic development practitioners / Dorcas R. Gilmore and Diane M. Standaert, editors
ECONOMICS.
Green economy and good governance for sustainable development : opportunities, promises and concerns / edited by Jose A. Puppim de Oliveira
ENERGY.
EU law and the development of a sustainable, competitive and secure energy policy : opportunities and shortcomings / Bram Delvaux
FORESTS.
Forest landscape restoration : integrating natural and social sciences / John Stanturf, David Lamb, Palle Madsen, editors
FOREIGN LAW.
Developing an appropriate contaminated land regime in China : lessons learned from the US and UK / Xiaobo Zhao
The Middle East water question : hydropolitics and the global economy / Tony Allan
Power and water in the Middle East : the hidden politics of the Palestinian-Israeli water conflict / Mark Zeitoun
Satoyama–satoumi ecosystems and human well-being : socio-ecological production landscapes of Japan / edited by Anantha Kumar Duraiappah … [et al.]
Water, power and politics in the Middle East : the other Israeli-Palestinian conflict / Jan Selby
Water wisdom : preparing the groundwork for cooperative and sustainable water management in the Middle East / edited by Alon Tal and Alfred Abed Rabbo
HISTORY.
Histories of the dustheap : waste, material cultures, social justice / edited by Stephanie Foote and Elizabeth Mazzolini
A Sand County almanac, and sketches here and there / by Aldo Leopold ; illustrated by Charles W. Schwartz ; introduction by Robert Finch
OCEAN LAW.
Zoning the oceans : the next big step in coastal zone management / John M. Boehnert
SOCIOLOGY.
Wild ones : a sometimes dismaying, weirdly reassuring story about looking at people looking at animals in America / Jon Mooallem
SUSTAINABLE DEVELOPMENT.
Assessing sustainability : a guide for local governments / Wayne M. Feiden, with Elisabeth Hamin
TRANSPORTATION & INFRASTRUCTURE.
Infrastructure and land policies / edited by Gregory K. Ingram and Karin L. Brandt
TOXICS.
Soil remediation and rehabilitation : treatment of contaminated and disturbed land / Helmut Meuser
Toxic tort litigation / Arthur F. Foerster & Christine Gregorski Rolph, editors ; Section of Environment, Energy and Resources, American Bar Association
URBAN ECOLOGY.
Italian Historical Rural Landscapes : Cultural Values for the Environment and Rural Development / Mauro Agnoletti, Editor
The humane metropolis : people and nature in the 21st-century city / edited by Rutherford H. Platt
VIDEO.
Green fire [videorecording] : Aldo Leopold and a land ethic for our time / Aldo Leopold Foundation, U.S. Forest Service, Center for Humans and Nature present ; a film by Ann Dunsky, Steve Dunsky, Dave Steinke ; writer, Stephen Most
WATER LAW & RESOURCES.
Contested water : the struggle against water privatization in the United States and Canada / Joanna L. Robinson
Living with water : targeting quality in a dynamic world / Paul Pechan, Gert E. de Vries, editors
Monitoring water quality : pollution assessment, analysis, and remediation / Satinder Ahuja
WILDLIFE.
Save me from the lion's mouth : exposing human-wildlife conflict in Africa / James Clarke