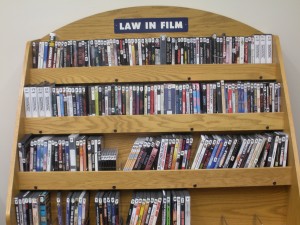 Part of our law library collection is the Law in Film Collection, which is housed on the main level of the library in the student lounge. All patrons with borrowing privileges may check any of the movies out at no charge for up to 5 days. The following are our most recent additions to this collection. Come by and check it out!
Environmental Law
The Ghosts In Our Machine (Bullfrog films and Ghosts Media presents; directed by Liz Marshall; produced by Nina Beveridge and Liz Marshall; written by Liz Marshall) [HV4708 .G46 2013 DVD] – This film asks the difficult question: are animals property to be owned and used by humans as we wish, or are they sentient beings deserving of rights? This award-winning documentary touches on the lives of individual animals as it follows photographer Jo-Anne McArthur on a year-long journey as she photographs animal stories in North America and Europe.
Cowspiracy: The Sustainability Secret (A.U.M. Films; First Spark Media; written & directed & produced & edited, Kip Andersen, Keegan Kuh) [S589.75 .C69 2014 DVD] – Feature-length environmental documentary following an intrepid filmmaker as he uncovers the most destructive industry facing the planet today, and as he investigates why the world's leading environmental organizations are too afraid to talk about it.
Criminal Law
Breaking Bad – the complete series (Sony Pictures Television; created by Vince Gilligan; produced by Stewart A. Lyons; producers, Bryan Cranston, Diane Mercer; High Bridge; Gran Via Productions) [PN1992.77 .B74 2014 DVD] – "Emmy Award winner Bryan Cranston stars as Walter White, a down-on-his-luck chemistry teacher struggling to make ends meet for his wife (Anna Gunn) and physically challenged son (RJ Mitte). Everything changes when Walter receives a startling diagnosis: terminal lung cancer. With only a few years to live and nothing to lose, Walter uses his training as a chemist to cook and sell crystal meth with one of his former students (Aaron Paul). As his status grows, so do his lies, but Walt will stop at nothing to make sure his family is taken care of after he's gone, even if it means putting all their lives on the line." [container]