Pace Law School hosted the Annual First Year Louis V. Fasulo Moot Court Competition for the January Start Class on July 9th and 10th, 2014. About 40 lawyers and judges participated as judges for the competition. The students were well prepared and the heat of the evening matched the heat of the competition courtrooms. The arguments were well reasoned, enthusiastically presented and persuasively delivered.
The students argued the merits of a criminal case People v. Gorman, authored by Prof. Peter Widulski, involving two issues: 1) sufficiency of evidence supporting jury charge of extreme emotional disturbance in a second degree murder trial and 2) sufficiency of judge's instruction to cure alleged prejudice caused by the prosecutor's inappropriate comments during her closing statement. Professors Tamar Gribetz, Lucie Olejnikova, Gail Whittemore and Peter Widulski guided the students and prepared them for their presentations. A great panel of experienced judges and attorneys peppered our students with a series of challenging questions and many of our alumni provided great insight to our 1Ls.
The camaraderie and the intensity of the students made it a stimulating competition. After Wednesday preliminary rounds, the top 16 students competed on Thursday in the quest for top oralist. Our congratulations go to top 16: Washington Alvarez, Christine Aziz, Michael Calabrese, John Carriel, Annettte Gershovich, Sophia Gregg, Perri Hom, Elen Krut, Timothy Martin, Margaret Obligin, Amy O'Donohue, Christina Romano, Westri Stalder. Garvey Turnier, Minika Udoko, and Charisma Wright.
After a competitive round of top 16, the following students moved on to the top 8: Michael Calabrese, John Carriel, Perri Hom, Margaret Obligin, Amy O'Donohue, Christina Romano, Garvey Turnier, and Charisma Wright. The top 8 students argued passionately and made it a difficult job for the judges to pick the four finalists.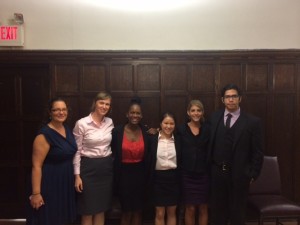 Nevertheless, the final four, John Carriel, Perri Hom, Christina Romano, and Charisma Wright made it and did a fabulous job giving the spectators an exciting final round. At the end, Charisma Wright took home the crown of Best Advocate and Christina Romano followed closely in a second place.
Special Thanks go to Loretta Musial, Professor Louis Fasulo, the 1L Legal Skills Writing and Research faculty for coming to support the students, Dean Yassky, Chartwell Food Services, the Moot Court Board including Catherine Peña, Kiersten Schramek, Arthur Muller, CJ Croll and our wonderful and committed volunteer judges.
Congratulations to Charisma Wright and Christina Romano on this great achievement!
The top 16 students are invited to take Advanced Appellate Advocacy (AAA) class in the Fall and should register as soon as possible. Students who did not advance but still have a strong interest in taking AAA class, may petition Professor Fasulo via email [lfasulo@law.pace.edu].