Congratulations to Vicky Gannon, Head of Circulation and Reference Librarian, who received the Land Use Law Center's Annual Distinguished Service Award for her continuous contributions to the work and mission of the Land Use Law Center at Pace University School of Law.
On December 6, 2013, the Land Use Law Center hosted its 12th annual conference titled Leading Communities Toward a Resilient Future. This educational conference brought together hundreds of attorneys, business professionals, educators, and our community leaders who had the opportunity and forum to address the challenges of the future and
… [who] focused on the challenges faced by the greater New York Metropolitan area as it addresses the effects of natural disasters and a changing climate.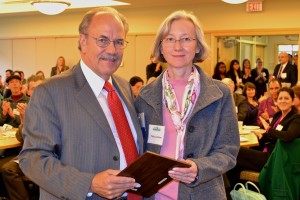 The Land Use Law Center was established in 1993 with the mission to foster the development of sustainable communities. The educational and research efforts of the Center have been continuously supported by the Pace Law Library, namely by Vicky Gannon. Three years of the Center's inception, Vicky became the liaison to Prof. Nolon and began working with the students in his Land Use class. Shortly thereafter, Vicky became the liaison to the Center and since then has worked tirelessly with faculty and students on their research projects. At this year's conference, Prof. John Nolon recognized Vicky for her keen contributions, determined work, and enthusiastic support. Click here to access Vicky's research guides.
Join Pace Law Library in congratulating Vicky on this well-deserved recognition!