FEATURED BOOK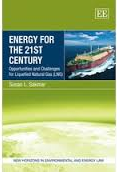 Energy for the 21st Century: Opportunities for Liquefied Natural Gas (LNG) (2013).  Energy for the 21st Century is a 489 page text authored by Susan L. Sakmar of the University of Houston Law Center & University of San Francisco School of Law, published by Edward Elgar.  The book, which is part of the New Horizons in Environmental and Energy Law series, provides an excellent overview for those interested in the extraction, globalized market, and environmental and regulatory issues surrounding liquefied natural gas (LNG).  Of particular interest, Chapter 7 discusses the environmental sustainability of LNG while Chapters 10 and 11 discuss the shale gas "revolution" and its impact on prospective LNG markets.
NEW LIBRARY ACQUISITIONS
COMPARATIVE.
Civil liability for environmental damage : comparative analysis of law and policy in Europe and the US / Mark Wilde
ECONOMICS.
Business and climate policy : the potentials and pitfalls of private voluntary programs / edited by Karsten Ronit
ECOPSYCOLOGY.
Ecopsychology : science, totems, and the technological species / edited by Peter H. Kahn, Jr. and Patricia H. Hasbach
ENERGY.
Before the lights go out : conquering the energy crisis before it conquers us / Maggie Koerth-Baker
Handbook of energy / edited by Cutler J. Cleveland, Boston University, Boston, Massachusetts, USA, Christopher Morris, Morris Books, Escondido, California, USA
FOOD LAW.
Bet the farm : how food stopped being food / Frederick Kaufman
America's food : what you don't know about what you eat / Harvey Blatt
FORESTS.
Longleaf, far as the eye can see : a new vision of North America's richest forest / Bill Finch … [et al.] ; foreword by E.O. Wilson
FOREIGN LAW.
China's environmental policy and urban development / edited by Joyce Yanyun Man
GOVERNANCE.
Local commons and democratic environmental governance / edited by Takeshi Murota and Ken Takeshita
Environmental governance for sustainable development : East Asian perspectives / edited by Akihisa Mori
LAND USE LAW.
Land value taxation : theory, evidence, and practice / edited by Richard F. Dye and Richard W. England
NATIONAL ENVIRONMENTAL POLICY ACT.
NEW YORK.
Fluid New York : cosmopolitan urbanism and the green imagination / May Joseph
Building like Moses with Jacobs in mind : contemporary planning in New York City / Scott Larson
URBAN ECOLOGY.
Cities are good for you : the genius of the metropolis / Leo Hollis
WATER LAW & RESOURCES.
European and Dutch water law / H.F.M.W. van Rijswick & H.J.M Havekes