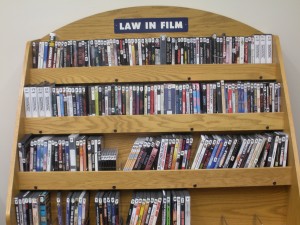 It is time for me to share with you recent additions to our Law in Film Collection. Any items in our Law in Film Collection can be checked out to our patrons who have borrowing privileges for up to five days at no charge. Check it out before the Labor Day weekend.
Lincoln (Dreamworks Pictures, 20th Century Fox and Reliant Entertainment present; in association with Participant Media and Dune Entertainment; an Amblin Entertainment / Kennedy / Marshall Company production; a Steven Spielberg film; directed by Steven Spielberg; screenplay by Tony Kushner; produced by Steven Spielberg, Kathleen Kennedy) [PN1997.2 .L56 2013 DVD] – A revealing drama that focuses on the 16th President's tumultuous final months in office. In a nation divided by war and the strong winds of change, Lincoln pursues a course of action designed to end the war, unite the country and abolish slavery. With the moral courage and fierce determination to succeed, his choices during this critical moment will change the fate of generations to come.
The Central Park Five (a film by Ken Burns, David McMahon, Sarah Burns; a Florentine Films production; written by Sarah Burns & David McMahon & Ken Burns; produced by David McMahon, Sarah Burns, Ken Burns; produced in association with WETA, Washington, DC) [HV6568.N5 C45 2013 DVD] – Chronicles America's complicated perceptions of race and crime through the story of the "Central Park 5"- A group of minority teenagers wrongfully convicted and jailed for brutally raping a white woman in New York.
Bidder 70 (Gage & Gage Productions; produced and directed by Beth Gage & George Gage) [QH77.3.C57 B53 2013 DVD] – "In 2008, as George W. Bush tried to gift the energy and mining industries thousands of acres of pristine Utah wilderness via a widely disputed federal auction, college student Tim DeChristopher decided to monkey-wrench the process. Bidding $1.7 million, he won 22,000 acres with no intention to pay or drill. For this astonishing act of civil disobedience, he was sentenced to two years in federal prison. Bidder 70 tells the story of this peaceful warrior whose willingness to sacrifice has ignited the climate justice movement."
The Good Wife (Season 3) (We also have season 1 and 2) [PN1997.2 .G66 2012 DVD] – A wife and mother boldly assumes full responsibility for her family and re-enters the workforce after her husband's very public sex and political corruption scandal. In Season 3, Alicia continues balancing her professional and personal lives as she strives to provide a stable home for her children in the midst of separating from her husband and contemplating finally giving in to her feelings for fellow lawyer Will Gardner.
Rake: The Bar Has Been Lowered (created by Peter Duncan, Richard Roxburgh, Charles Waterstreet; written by Peter Duncan, Andrew Knight; producers, Ian Collie, Peter Duncan, Richard Roxburgh; directed by Rachel Ward … [et al.]) [PN1997.2 .R35 2012 DVD] – Meet Australian criminal barrister Cleaver Greene, reckless, brilliant and self-destructive. To jurors, he is hilarious, to judges an outrage, to a certain brothel owner a legend and to his former cocaine dealer, tragic loss. While his ex-wife may call him unreliable, his son calls him a mate. Despite his personal hopelessness, Cleaver will do whatever it takes to defend and save life's truly lost souls.
Side Effects (An Open Road release; Endgame Entertainment presents; produced by Lorenzo di Bonaventura … [et al.]; written by Scott Z. Burns; directed by Steven Soderbergh) [PN1997.2 .S537 2013 DVD] – A young woman's world unravels when a drug prescribed by her psychiatrist has unexpected side effects.
You Have the Right to an Attorney (a film by Matt Bockelman ; produced by Lisa Levey, Matt Bockelman ; presented by The Reach Film Fellowship, a program of Cinereach, Ltd) [KFN6160 .Y68 2011 DVD] – "A documentary short profiling the public defenders of the South Bronx. These overworked attorneys carry over 100 open cases, each file representing a person in need of help. Their youth and idealism cut against stereotypes of lazy, under-trained PD's. They hope to affect real change while negotiating everyday between their clients' needs and the larger crusade against injustice."