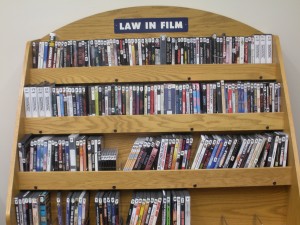 Pace Law Library has acquired new titles into its Law in Film Collection. Any patron with borrowing privileges can check any of the movies out at no charge. The following are our recent acquisitions:
Arbitrage (Lionsgate presents; Green Room Films and TreeHouse Pictures present; a co-production of Parlay Films, LB Productions, Artina Films; a film by Nicholas Jarecki; written and directed by Nicholas Jarecki; produced by Laura Bickford … [et. al.]) [PN1997.2 .A73 2012 DVD] – "Robert Miller is a New York hedge-fund magnate who appears to have it all: money, power, a loving wife, and a devoted daughter working by his side. But behind the gilded walls of his mansion, Miller is running on borrowed time, trying to unload his crippled trading company before his frauds are revealed. A deadly error throws Miller's life into a tailspin, raising the suspicions of a detective and threatening the future of his financial empire."
A lawyer walks into a bar (Camel's Back Films presents; directed and produced by Eric Chaiken; producer, Tasha Oldham) [KF300 .L35 2008 DVD] – "Documentary explores the influence of the law and its practitioners on American culture, while following six characters as they do whatever it takes to become lawyers. This film features cameos by legal luminaries, politicians, well-known comedians, celebrity lawyers and other notables."
The bungalows of Rockaway: small houses and big dreams on Gotham's shore (a film by Jennifer Callahan) [F129.R8 B86 2010 DVD] – "New York City is known for its skyscrapers, tenements, brownstones, apartment buildings and … bungalows? Thousands of bungalows once lined the city's Atlantic shore, providing summers by the sea for working-class families. Today, present-day residents fight to save the remaining few. This is the story of the popular resort that flourished for much of the 20th century along the southeastern edge of the city."
One more dead fish (Interpositive Media presents; a Lonach Films production; produced by Peripheral Visions, Inc.; directed by Allan Forbes, Stefan Forbes) [HD8039.F66 C36 2006 DVD] – "Six Nova Scotia fisherman barricade themselves inside a Federal building to protest government policies towards the fishing industry."
Silent choices (New Day Films; produced and directed by Faith Pennick; an Organized Chaos Mediaworks production) [HQ767.5.U5 S48 2007 DVD] – "Illustrates the abortion issue through the lives of African American women, with both interviews and dramatic content. Features the personal experiences of several such women, some of whom chose to have abortions, and some who are staunchly pro-life. The film also brings in others active in the African American community on abortion issues, as well as juxtaposing African American viewpoints to those of white Americans, all combined and contrasted with the larger economic, political, and social pressures that are faced by the African-American community in general."
The greatest good (U.S. Forest Service centennial film; producer/director, David Steinke and Steven Dunsky; writers, Steven Dunsky and Stephen Most) [SD565 .G73 2006 DVD] – The narrator, Charles Osgood, tells the story of the U.S. Forest Service 's struggle to use and maintain the nation's resources in the face of natural disasters, economic demands, and political controversy. Looks at the service's effort's to balance delivering the most benefits to the most people while remaining a good steward of the land. Explores the legacy of conservation visionaries Gifford Pinchot, Bob Marshall, and Aldo Leopold and their ideas for the "wise use" of resources, the preservation of wilderness, and a "land ethic." Examines conflicts relating to public lands and the use of natural resources, covering topics such as grazing, fire, wilderness, wildlife, watershed protection, recreation, and timber. Features archival footage and photographs, as well as scenes of American forests from the Adirondack Mountains to the rainforests of the Pacific Northwest.
Grow! (Christine Anthony and Owen Masterson) [S605.5 .G76 2011 DVD] – Documentary filmed on 12 farms throughout Georgia demonstrating organic and sustainable farming.