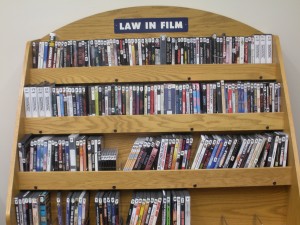 The Library's Law in Film Collection continues to grow and the following are some of our newest additions. Anyone with borrowing privileges, including students, staff and faculty, may check any of the Law in Film Collection movies out.
A Fierce Green Fire: The Battle for a Living Planet (a film by Mark Kitchell) [GE197 .S44 2012 DVD] – "Divided into five "acts", the film is an exploration of the environmental movement–grassroots and global activism spanning fifty years from conservation to climate change."
Expedições Amazônia (Volume 1 textos, Paula Saldanha; direção, Pedro Werneck; direção geral, Paula Saldanha, Roberto Werneck; realização, RW Cine) [F2546 .E97 2005 DVD] – 3 DVDs available in Portuguese, English, or Spanish. Journalist Paula Saldanha and biologist Roberto Werneck team up to document the Amazon region, its people and environmental projects such as PIATAM.
Tar Creek (from Jump the Fence Productions ; in association with 42 Productions; produced by Tanya Beer, Matt Myers; written and directed by Matt Myers) [TD1042.O52 T37 2011 DVD] – "This environmental documentary examines the Tar Creek Superfund Site, a stretch of Oklahoma heartland that has long been profoundly damaged by zinc and lead mining. The piece looks back as far as 100 years into Tar Creek's history (when the U.S. government removed Native Americans from the land), and traces the many offenses that have been committed against the area and its people over the past century"
Portrait of Wally (a film by Andrew Shea) [N8795.3.A8 P67 2011 DVD] – "In 1939, Nazis seized control of Austrian art collector Lea Bondi's beloved Egon Schiele painting 'Portrait of Wally.' For 70 years the Bondi family fought to reclaim the painting in a battle that pitted them against the likes of the Austrian government, billionaire art collectors, MoMA, and NPR."
Too Big to Fail (HBO Films presents; Spring Creek Productions; produced by Ezra Swerdlow; written by Peter Gould; directed by Curtis Hanson) [PN1992.77 .T66 2012 DVD] – Offers an intimate look at the epochal financial crisis of 2008 and the powerful men and women who decided the fate of the world's economy in a matter of a few weeks. Centering on Treasury Secretary Henry Paulson, the film goes behind closed doors to examine the symbiotic relationship between Wall Street and Washington.
Frontline. The spill (a Frontline production with Rain Media, Inc.; in association with Propublica; written and produced by Martin Smith & Marcela Gaviria) [TD427.P4 S65 2011 DVD] – "Martin Smith and Abraham Lustgarten explore the corporate history of BP before the 2010 Deepwater Horizon explosion in the Gulf of Mexico. This investigation reveals a history of safety and environmental violations."