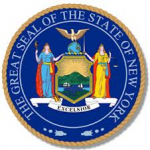 From the Brennan Center for Justice  at NYU School of Law:
As part of the Public Integrity Act of 2011, New York State implemented the nation's first system of disclosure for funding sources  of specified lobbying entities spending in excess of $50,000 per year on lobbying expenditures. This requirement seeks to end the practice of "black box" lobbying in the state – that is, expensive lobbying campaigns conducted by entities with names that are not readily recognizable.
The first reports are available on the website of the New York State Joint Commission on Public Ethics and cover the period July 1 through December 31, 2012.