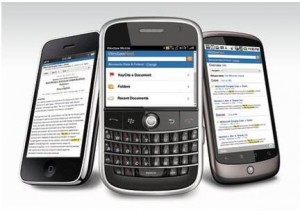 WestlawNext, Westlaw legal research platform, released an app for Android devices. WestlawNext app for iOS systems has been around for some time and is finally joined by an app for Android mobile devices as well. Read more information about WestlawNext for mobile devices. For more information about the app for iOS devices, click here, and for more information about the app for Android devices, click here.
If you are a mobile user, I would recommend to download the app (free for iOS as well as Android) to take advantage of all WestlawNext features, such are folders, sharing, or reading offline. Check it our yourself and share your thoughts.
Related Articles:
Robert Ambrogi, Hands On with the WestlawNext Android App, Robert Ambrogi's Law Sites (July 17, 2012), http://www.lawsitesblog.com/2012/07/hands-on-with-the-westlawnext-android-app.html.
Press Release, Thomson Reuters, Thomson Reuters Westlaw Debuts WestlawNext Android App (July 2, 2012), available at http://thomsonreuters.com/content/press_room/legal/689027.
WestlawNwxt Debuts Android App (video).