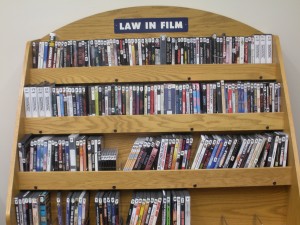 Here is my periodic blog post listing the most recent additions to the Pace Law Library Law in Film Collection, which is located on the main floor of the library; behind the reference desk and in the cell phone lounge. This collection keeps on growing. All library patrons with borrowing privileges may check any of the movies out for up to five (5) days at no charge.
The following are the most recent additions to our Law In Film Collection
New Fiction and Legal Dramas:
The Descendants (Fox Searchlight Pictures; an Ad Hominem Enterprises production; directed by Alexander Payne; screenplay by Alexander Payne and Nat Faxon & Jim Rash; produced by Jim Burke, Alexander Payne, Jim Taylor; made in association with Dune Entertainment and produced in association with Little Blair Productions and Ingeneous Film Partners) [PN1997.2 .D47 2012 DVD] – Starring George Clooney as Matt King, who is an indifferent husband and father of two girls that is forced to re-examine his past and embrace his future when his wife suffers a boating accident off of Waikiki. The event leads to a rapprochement with his young daughters while Matt wrestles with a decision to sell the family's land handed down from Hawaiian royalty and missionaries.
J. Edgar (Warner Bros. Pictures; an Imagine Entertainment production, a Malpaso production; directed and produced by Clint Eastwood; written by Dustin Lance Black; produced by Brian Grazer, Robert Lorenz) [PN1997.2.J43 2012 DVD] –  Starring Leonardo DiCaprio as J. Edgar Hoover "who [was] head of the FBI for nearly 50 years. Hoover was feared, admired, reviled and revered, a man who could distort the truth as easily as he upheld it. His methods were at once ruthless and heroic, with the admiration of the world his most coveted prize. But behind closed doors, he held secrets that would have destroyed his image, his career and his life." Container.
The Whistleblower (Séville Pictures; director, Larysa Kondracki; writers, Larysa Kondracki, Eilis Kirwan; producers, Christina Piovesan, Celine Rattray) [PN1997.2 .W45 2012 DVD] – When Nebraska cop Kathryn Bolkovac accepts a U.N. peacekeeper position in post-war Bosnia, she discovers a deadly sex trafficking ring. She uncovers an international conspiracy that is determined to stop her, no matter the cost.
New Docudramas and Documentaries: