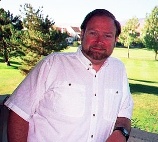 The Law Library staff mourns the loss of its long-time Associate Director, Jack McNeill.  Jack died on Monday, January 18 after a courageous fight against cancer.  Jack came to Pace Law School in July 2000, and initially served as the Head of Reference Services.  Two years later, he was promoted to Associate Director, the position from which he retired in December 2015.
Jack's fingerprints are all over the Pace Law Library.  He played a major role during the renovation project of 2006-2007, helping to develop a plan to reconfigure the physical plant and reorganize the collection.  Jack's mother was a gifted painter, and I think Jack must have inherited some of her talent; he was able to visualize space in a way that eluded others.  Jack is responsible for the archival collections that are now housed in the Pace Law Library.  He secured a grant to develop the Sive Environmental Litigation Archives, and also created the Pace Law School Archives because he believed that the public record of the School should be preserved for the future.  Jack was responsible for the signage that accompanies the art work around the Library; it is both entertaining and educational, thanks to Jack's tenacity in tracking down information about each piece.
Everyone who knew Jack will attest to his sweet, gentle nature, his patience, and his kindness.  In every sense of the word, he was a gentleman.  When Jack received his diagnosis, he was devastated, but his deep religious faith sustained him throughout his ordeal.  I never heard him complain about his bad luck; instead, he learned all he could about his condition and set about seeking treatment.  No matter how bad things got, he would smile and say, "Not to worry.  It's all good."  His courage was an inspiration.
Jack was a native of Long Island, and received a B.A. from New York University, a J.D. from New York Law School, and an M.L.S. from the University of South Tampa.  Before coming to Pace, he worked at several academic law libraries, including St. Thomas University, Florida Atlantic University, and New York University.  He also engaged in the private practice of law for ten years.  Jack was professionally active.  He served as Chair of the Academic Libraries Special Interest Section of the American Association of Law Libraries in 2010-2011, and as president of the South Florida Association of Law Libraries in 1995-1996.  Jack made friends wherever he worked, and whenever I attended a conference, someone was sure to ask me about Jack and want to be remembered to him.
Jack enjoyed working with our students and faculty, and taught legal research in the first-year Legal Skills Program.  He served as a liaison to the Environmental Law Program, and wrote a blog that covered environmental law and related subject areas.  His primary concern was always to serve the students and the Law School.   Jack made a lasting and unique impact on the Pace Law Library, and he will be missed.