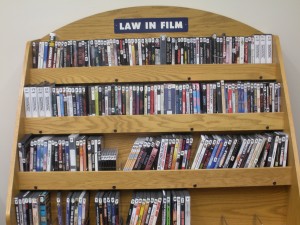 It is the time again when we share with you the new additions to our Law in Film Collection. This collection of DVDs is located in the library's Student Lounge  and offers a variety of films and documentaries. All Pace patrons with borrowing privileges may check our movies out for up to five days at no charge. Come and check it out for yourself.
Fiction
To Kill a Mockingbird (Pakula-Mulligan, Brentwood Productions picture; directed by Robert Mulligan; produced by Alan J. Pakula) [PN1997 .T65 1998 DVD] – "The setting is a dusty Southern town during the Depression. A white woman accuses a black man of rape. Though he is obviously innocent, the outcome of his trial is such a foregone conclusion that no lawyer will step forward to defend him– except the town's most distinguished citizen. His compassionate defense costs him many friendships but earns him the respect and admiration of his two motherless children."
Oral Advocacy
The First Monday in October: A Mock Supreme Court Argument: Affirmative Action in College Admission: Is It Still Constitutional? – Fisher v. University of Texas at Austin (Office of the Appellate Defender) [KF4755.5 F567 2012 DVD] – Based on a case heard by the U.S. Supreme Court, Fisher v. University of Texas at Austin, in which the petitioner was denied admission to the University because of race. At issue before the Mock Supreme Court is whether the University's race-conscious admissions policy violates the Equal Protection Clause.
Advocacy and the Art of Storytelling (John D. Mooy, introduction by John Shepard) [KF8915.A2 M66 2005 DVD] – Educational documentary outlining the art of story telling in oral advocacy.
Making the Oral Argument: The View from the Inside Out (Maureen E. Mahoney, E. Barrett Prettyman, Jr., John G. Roberts, Jr., Hon. Gregory Kellam Scott, Hon. Kenneth W. Starr, Sanfor (Sandy) Svetcov, Hon. Deanell Reece Tacha) [KF8870 .M35 1996 DVD] – A presentation of the American Bar Association Center for Continuing Legal Education and the Section of Litigation in cooperation with the Judicial Division Appellate Judges Conference.
International Law
Hannah Arendt  (Heimat Film; directed by Margarethe von Trotta; screenplay by Pam Katz, Margarethe von Trotta; produced by Bettina Brokemper, Johannes Rexin) [PN1997.2 .H36 2013 DVD] – A biopic of Hannah Arendt, the influential German-Jewish philosopher and political theorist. Arendt's reporting on the 1961 trial of ex-Nazi Adolf Eichmann in The New Yorker, controversial both for her portrayal of Eichmann and the Jewish councils, introduced her now-famous concept of the "Banality of Evil." Using footage from the actual Eichmann trial and weaving a narrative that spans three countries, the director von Trotta beautifully turns the often invisible passion for thought into immersive, dramatic cinema.
The Act of Killing (a film by Joshua Oppenheimer; produced by Final Cut for Real ApS; directed by Joshua Oppenheimer; produced by Signe Byrge Sørensen; executive producers, Errol Morris, Werner Herzog, André Singer, Joram ten Brink, Torstein Grude, Bjarte Mørner Tveit) [HV6322.3.I5 A283 2014 DVD] – An examination of the murder of political dissidents in Indonesia by government sponsored death squads in the years following the military coup in 1965, in which the filmmakers were successful in persuading those responsible to reenact the killings for the camera in the fashion of American movies.
Environmental Law
Sonatas of the Soil (Lily Films presents; directed, produced and written by Deborah Koons Garcia) [S596 .S663 2012 DVD] – 2 volume short film featuring number of experts in the area of organic farming, soil management and ecology, and agriculture.
Symphony of the Soil (a film by Lily Films; directed, produced and written by Deborah Koons Garcia) [S596 .S96 2012 DVD] – "Symphony of the Soil is an artistic exploration of the miraculous substance soil. By understanding the elaborate relationships and mutuality between soil, water, the atmosphere, plants and animals, we come to appreciate the complex and dynamic nature of this precious resource. The film also examines our human relationship with soil, the use and misuse of soil in agriculture, deforestation and development, and the latest scientific research on soil's key role in ameliorating the most challenging environmental issues of our time."
Dirt! (Common Ground Media, Inc. presents a film by Bill Benenson and Gene Rosow; produced by Bill Benenson, Gene Rosow, Eleonore Dailly; directed by Bill Benenson and Gene Rosow; co-director, Eleonore Dailly) [S591 .D57 2009 DVD] – Featuring live action and animation, this movie examines the history and current state of the living organic matter that we come from and will later return to.
Carbo₂n Nation (directed by Peter Byck) [QC981.8.G56 C37 2011 DVD] – "A documentary movie about climate change solutions. Even if you doubt the severity of the impact of climate change or just don't buy it at all, this is still a compelling and relevant film that illustrates how solutions to climate change also address other social, economic and national security issues."
Blackfish (Magnolia Pictures; CNN Films; Our Turn Productions presents a film by Gabriela Cowperthwaite; produced by Manny O Productions; directed by Gabriela Cowperthwaite; produced by Manuel V. Oteyza; written by Gabriela Cowperthwaite, Eli Despres) [SF408.6.K54 B53 2013 DVD] – A discussion on the keeping of intelligent creatures in captivity. Employs the story of Tilikum, the notorious performing whale who, unlike orcas in the wild, has taken the lives of several people while in captivity.
The Human Scale: Bringing Cities to Life (a film by Andreas M. Dalsgaard) [HT166 .H86 2012 DVD] – 50% of the world's population lives in urban areas. By 2050 this will increase to 80%. Life in a mega city is both enchanting and problematic. Today we face peak oil, climate change, loneliness and severe health issues due to our way of life. But why? The Danish architect and professor Jan Gehl has studied human behavior in cities through 40 years. He has documented how modern cities repel human interaction, and argues that we can build cities in a way, which takes human needs for inclusion and intimacy into account. This documentary film meets thinkers, architects and urban planners across the globe. It questions our assumptions about modernity, exploring what happens when we put people into the center of our planning.
Cape Spin: An American Power Struggle (Electron Project presents a film by Rebirth Productions and the Press & the Public Project, Inc. in association with Gallant Films, Naked Edge Films, Steven Latham Productions; directed by Robbie Gemmel, John Kirby) [HD9502.5.W554 C374 2012 DVD] – "An American Power Struggle tells the surreal, fascinating, tragicomic story of the battle over what would be America's largest clean energy project. Cape Wind was slated to be the U.S.'s first offshore windfarm… But strange alliances formed for and against: Kennedys, Kochs, and everyday folks do battle with the developer and green groups over the future of American power."
The Hungry Tide (Screen Australia, SBS Australia in association with Screen NSW present; a Tom Zubrycki film; director and producer, Tom Zubrycki) [DU615 .H86 2011 DVD] – Examines the effect of climate change and the resulting rise in sea level and increasing salinity on the Pacific island nation of Kiribati. Exposes the global inequalities driving global warming through the life and work of Maria Tiimon, who advocates for the rights of Pacific Islanders, and explores the deteriorating conditions that threaten the people and culture of Kiribati as they plan for a time when they no longer have a nation.
The Last Ocean (directed & filmed by Peter Young) [SH351.P38 L37 2012 DVD] – "The Ross Sea, Antarctica is the most pristine marine ecosystem on Earth. Scientists describe it as a "living laboratory." A place that can teach us about the workings of all marine ecosystems. But the fishing industry recently found its way to the Ross Sea, targeting Antarctic toothfish and, unless fishing is stopped, the natural balance of the Ross Sea will be lost forever. Environmentalists, commercial fishers and governments are going head to head over this issue, which raises the simple ethical question: do we fish the last ocean or do we protect it?"
Other
The Untold History of the United States (written by Peter Kuznick, Matt Graham, Oliver Stone; directed by Oliver Stone) [E741 .U58 2014 DVD] – "Twelve-chapter documentary series, created and executive produced by Academy Award-winning writer/director Oliver Stone. Do Americans really know and understand the country's shared and complicated history? How are the small details and forgotten players that influenced some of the biggest events from America's past recalled? Will children actually get the whole story from reading history books? And how will it affect the future of the country?"